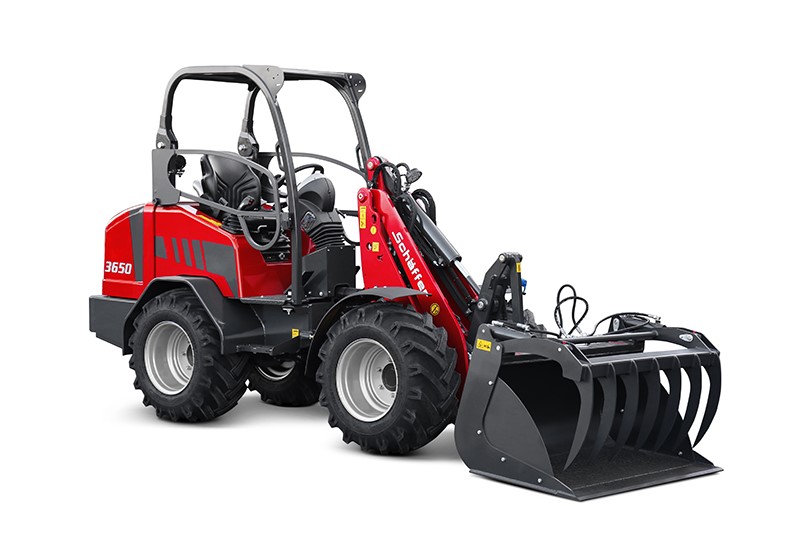 The new Schäffer 3650: Customised compact loader
Schäffer presents the new 3650 compact loader at this year's Agritechnica. The loader fulfils all requirements of exhaust emission level Stage V. With two different engines, lifting heights and speeds, it can be ideally tailored to customer requirements. The loader is available with either a protective roof or a cab.
The 3650 is equipped with a 28 kW (38 hp) Kubota diesel engine. The machine is optionally available with an output of 37 kW (50 hp). The modern 3-cylinder engine has a cylinder capacity of 1.8l and is enormously powerful thanks to its high torque of up to 151 Nm. This represents an increase of 28% compared to the previous model. It meets all requirements of exhaust emission level Stage V through the use of a diesel oxidation catalyst (DOC) and a diesel particulate filter (DPF).
Driving comfort is ensured by High Traction Force (HTF) and Schäffer Power Transmission (SPT). HTF automatically regulates the thrust so the loader can supply the highest possible thrust even in a high gear. SPT is the electronically controlled drive from Schäffer. The drive is adapted to the torque of the diesel engine. It leads to a significant increase in machine efficiency, improved agility and offers the driver a number of new possibilities. This includes cruise control to keep the machine at a constant driving speed regardless of engine speed, which is particularly advantageous when working with feed dosing devices, straw distributors, mulchers or brooms.
The 2.5 t – 2.7 t heavy machine offers a wide range of equipment possibilities. In addition to the option of two engines, the loader is also available in two speed levels (20 / 28 km/h) and with two lifting heights (2.88 / 3.11 m). If you want to go even higher, Schäffer also offers the telescopic wheel loader 3650 T with a lifting height of 3.85m. This machine is also available as an SLT version with a particularly low overall height of 2.02m.
Technical data 3650
Engine
3-cylinder Kubota, 28 / 37 kW (38 / 50 HP)
Exhaust gas treatment
DOC + DPF, stage V
Operating weight
2,550 kg /2,700 kg with cab
Driving speed
0 – 20 km/h, Option: 0 – 28 km/h
Length with standard bucket
4,030 mm
Width
1,100 – 1,570 mm
Height over protective roof/ cab
2,230 mm
Turning radius
985 mm
Lifting height (tool pivot, standard/optional)
2,880 / 3,110 mm
Lifting force
1,850 kg
Tipping load, straight (pallet fork)*
1,267 – 1,580 kg
Tipping load, straight (bucket)*
1,523 – 1,845 kg
* acc. to ISO 8313 (Boom horizontal)