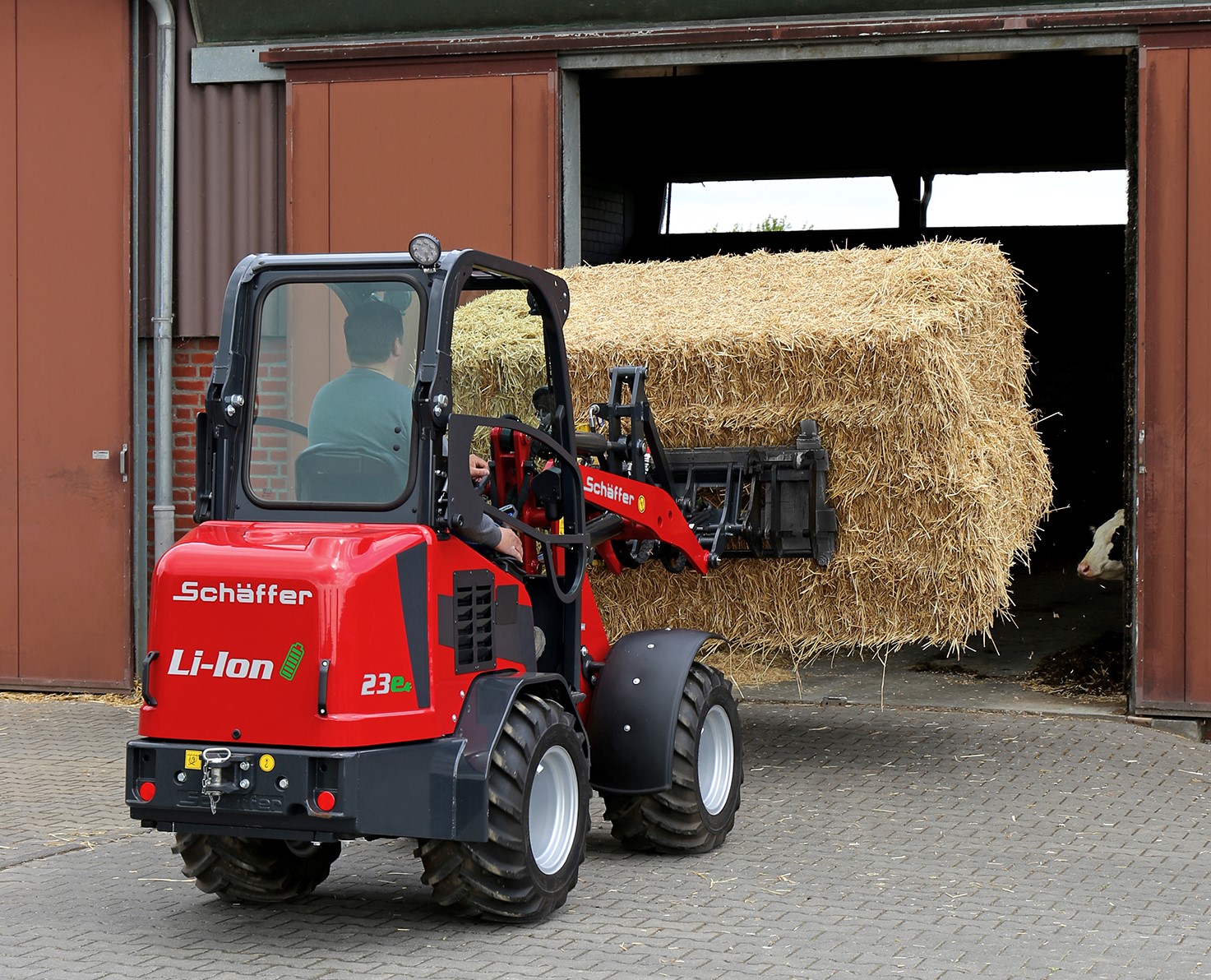 Schäffer showcases electric loader and other new developments at LAMMA
Schäffer heads to LAMMA 2020 to showcase new developments across its ranges, including the UK debut of the Schäffer 23e: the world's first compact loader with lithium-ion technology and a top speed of 20 kph. Also on display are the best-selling Schäffer 8620 T, exhibiting with the latest 136hp engine, and the Schäffer 6680 T with new style cabin and new standard wheel option.
The new electric compact loader 23e from Schäffer delivers emission-free operation: exhaust gases and noise are now a thing of the past. This is a significant advantage in sectors such as the indoor livestock business, where animals, humans and the environment benefit from this. Customers can choose between two lithium-ion battery packs. With the standard battery system (6.7 kWh), the loader is well equipped for most farm work. With the help of the power battery system (13.4 kWh), the operating time of the loader doubles to several hours. The power battery system can be retrofitted at any time.
Schäffer guarantees a running time of 5,000 charging processes or 5 years of operation, whichever comes first. Friedhelm Brede, head of development at Schäffer, says: "Thanks to the pioneering technology, we can guarantee this extraordinarily long battery life. In addition, lithium-ion batteries are absolutely maintenance-free, there is no danger of lead or sulphuric acid and the 23e works reliably even at low temperatures."
In addition, the use of an electric loader with lithium-ion technology brings significant savings. "The 23e's maintenance requirements are significantly lower than those of the diesel model. Much higher efficiency and significantly lower energy costs per hour of operation result in additional savings potential."
The Schäffer 8620 T has proved a huge success since it's launch. With a wealth of options, including three different motor options, two speeds and two heights, it provides a tailored solution for larger farms, biogas plants and agricultural contractors. It is packed with many of Schäffer's latest smart technologies developed for lower fuel consumption, reduced maintenance, increased comfort and eco-friendliness. The loader on display at LAMMA is fitted with the recently added option of 100kW/136hp engine.
Also on show is the popular Schäffer 6680 T – the most compact loader in the professional class but packed with features and now equipped with the SCV-Plus cabin, setting new standards for driving ergonomics, space and all-round visibility. Another recent update is a new standard wheel option of 400/70-20 AS.
Visit Schaffer's stand at this year's LAMMA – Stand 18.604 Hall 18.