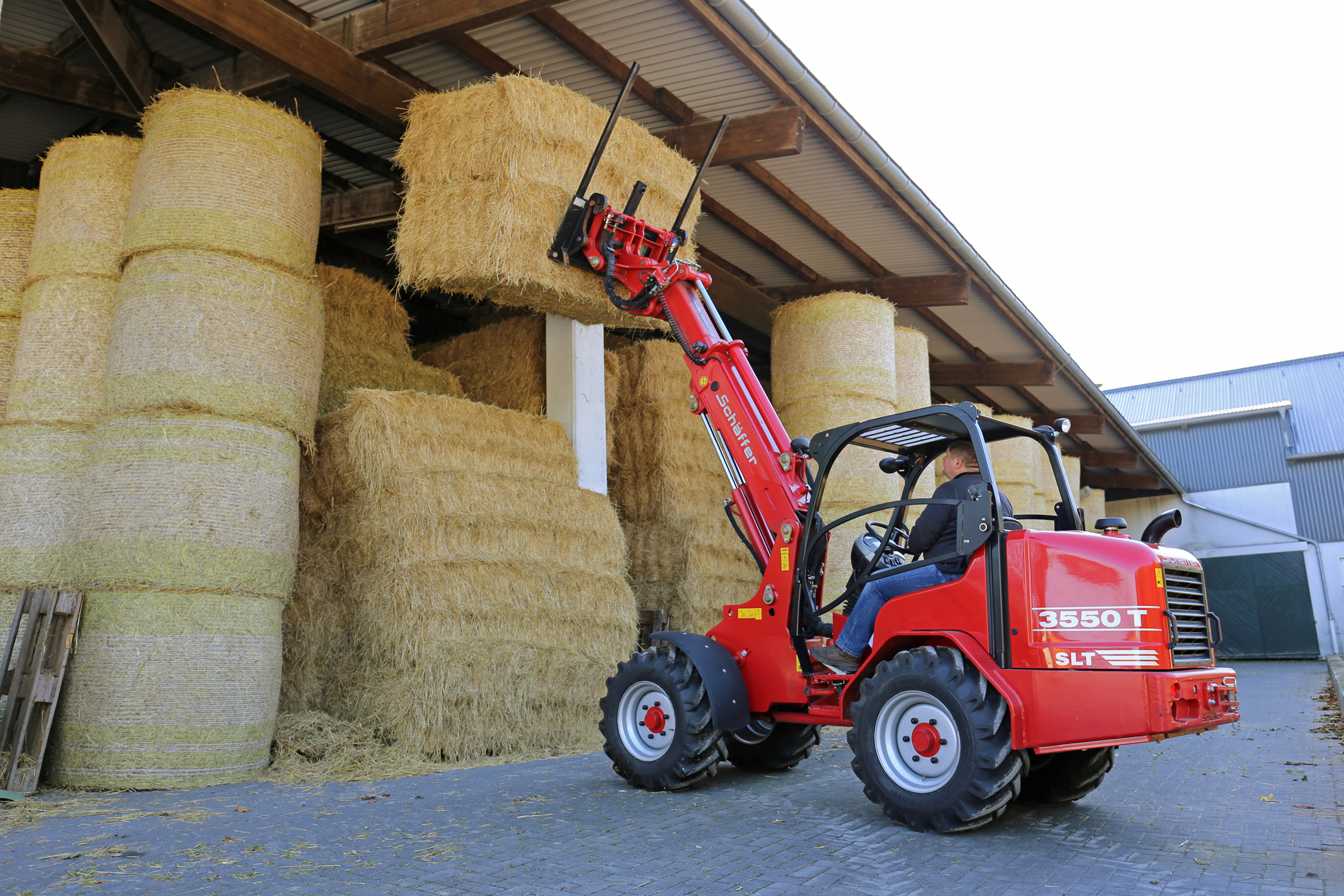 Schäffer adds greater efficiency, agility and driving comfort
Schäffer has added improved features to some of its most popular machines, strengthening the loader specialist's market position as the supplier with the broadest range of articulated telescopic wheel loaders in the world.
The performance and flexibility of Schäffer's 3500 series makes them ideal for a wide range of applications on small and medium sized farms. With flexible operation, reliable performance and a long working life, a Schäffer 3550 can be put to a wide range of uses.
Compact dimensions make it ideal for use in hard to reach areas, whilst the combination of power, stability, comfort and ease of use means it excels where bigger machines may fail. The Schäffer 3550 is available with many of the options you'd expect from a company with a proud 60 year history of creating loaders for individual requirements. It has an operating weight of 2.8/3.0t, lift capacity of 1.95t and a max load height of 3.2m.
The Schäffer 3550 SLT has an overall height of just 2.04 metres so it copes with low passages without problems, whilst its low centre of gravity aids its stability, high manoeuvrability and outstanding performance.
The Schäffer 3550 T combines the characteristics of the 3550 with a telescopic boom with lifting heights and loads not seen in comparable machines. It has the new Kubota motor and an electronically regulated drive, offering the highest possible torque in its class, unique amongst 37 kW/50 HP loaders. It also now has a larger, fully equipped cabin for greater comfort.
The Schäffer 4350 Z is a high performing compact loader with a Z bar boom – robust, powerful, versatile and strong. It also benefits from the new Kubota motor and electronically regulated drive and comfortable cabin. It is equipped with an oil-immersed, capsule, multi-disc brake, standard on all Schäffer machines. This means they are totally maintenance-free – dirt, dust and humidity don't stand a chance, so you get optimal deceleration values from brakes you can always count on.
Schäffer's 8610T is ideal for medium to large farms. It has an operating weight of 6.5t to 7.55t, lift capacity of 3.8t and a max load height of 5.1m. Its low machine height allows it to perform effectively in areas other machines of similar capacity and reach cannot go. Articulated steering gives an agile machine which can work easily in combined spaces. The efficient water cooled Deutz engine and well-designed hydraulic drive ensure low levels of fuel consumption.
Schäffer products set industry standards for reliability and durability, which means you save with lower servicing costs over the lifetime of the machine.