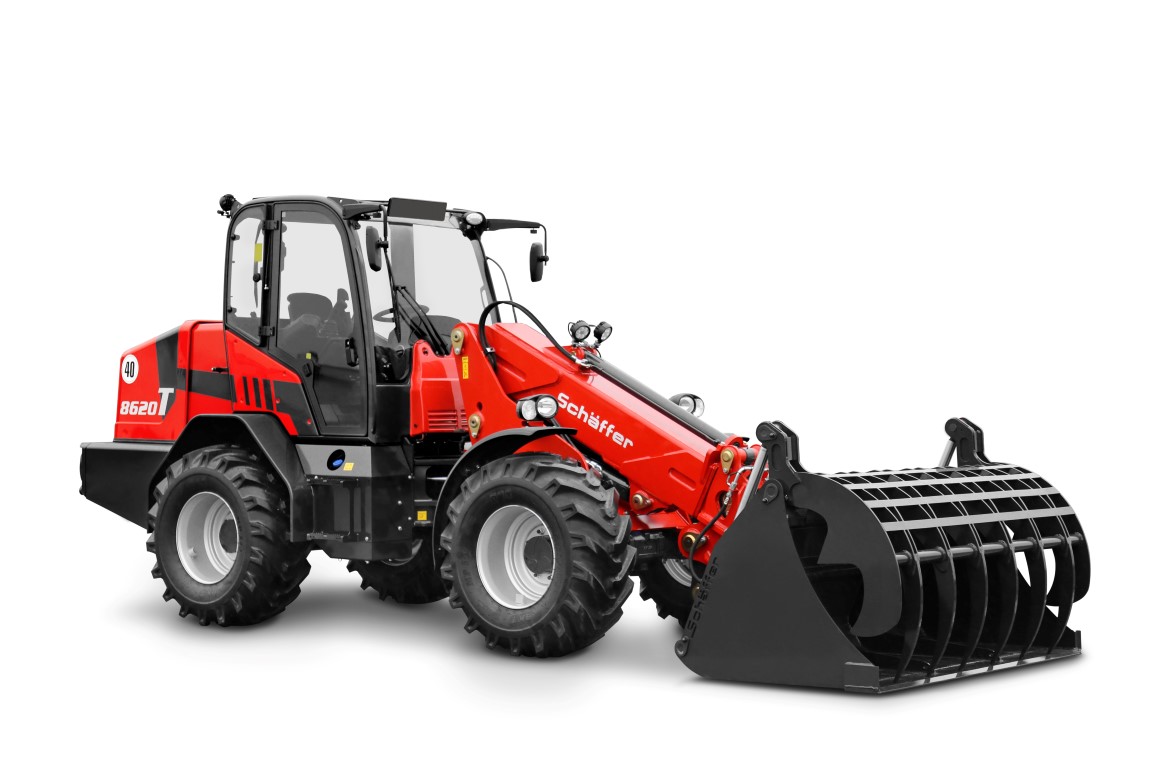 Schäffer 8620 T: the new telescopic wheel loader configured to suit you
The new 8620 T succeeds Schäffer's very successful 8610 T telescopic wheel loader. With a wealth of options, including two different motor options, speeds and heights, it provides a tailored solution for larger farms, biogas plants and agricultural contractors. A revised drive concept means the 8620 T delivers on efficiency too.
The 8620 T has two engine options: a 75 kW/102 hp or 90 kW/122 hp Deutz engine. Both engines meet the Tier IV final emissions standard without the need for a maintenance-intensive diesel particulate filter – a major advantage when it comes to operating costs. The standard driving speed is 20 km/h. The loader is also available with a maximum speed of 40 km/h – particularly advantageous for use outside the yard. An additional option allows the telescopic wheel loader to be used as a towing vehicle with a permissible towing capacity of up to 12 tonnes.
The drive concept of the 8620 T is also new: HTF (High Traction Force) and SPT (Schäffer Power Transmission) are standard equipment even with the smaller motor. HTF is an automatic thrust control system that allows the loader to deliver the highest thrust, even in high gear. This means manual downshifting is not necessary when driving uphill or into a pile. SPT is the electronically controlled drive from Schäffer. It leads to a significant increase in machine efficiency, improved agility and offers the driver a number of new possibilities, including cruise control to keep the machine at a constant driving speed regardless of engine speed, which is particularly advantageous when working with feed dosing devices, straw distributors, mulchers or brooms.
The 8620 T is particularly efficient in ECO driving mode, a fixed component of the 40 km/h version. When the maximum speed is reached and maintained, the engine speed is automatically reduced, giving lower operating costs, reduced noise levels and more environmentally-friendly use.
With an operating weight between 7 and 8 t, a lifting height at the tool pivot point of 5.20 m and a lifting capacity of 4,200 kg, the new 8620 T telescopic wheel loader offers an ideal combination of features for demanding loading work. The loader is equipped with a hydraulically-driven fan as standard. Optionally, it can also be operated in reverse mode at the push of a button. The cooler is cleaned during operation – a benefit in all conditions, but particularly if working in dusty operating conditions.
A further highlight of this machine is the new SCV-Plus cabin, which is now also used on the 96 series machines. SCV stands for 'Silence, Comfort, View'. Generous glazing provides the driver with optimum all-round visibility. A new airflow concept and adjustable side windows ensure an optimal supply of fresh air. The new SCV-Plus cab gives the driver a completely new sense of ergonomics and comfort. The loader is optionally available with a low cab, with a total height of 2.67m instead of the standard 2.77m.